Complete HVAC Repair and Installation Services
in Chino, Riverside and Surrounding Areas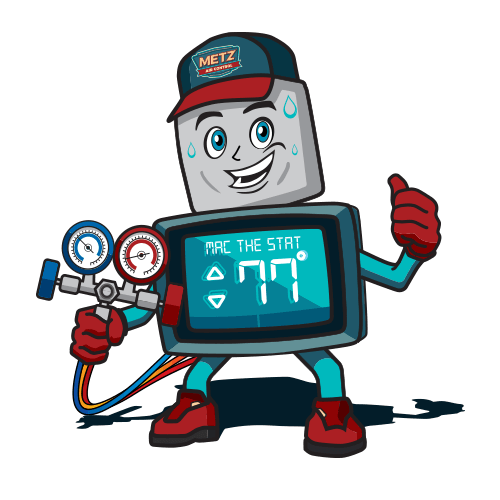 Experience the Metz Difference
As an HVAC contractor with close ties to the community, Metz Air Control is committed to providing the quality heating and air conditioning services you expect. We are a family-owned and –operated HVAC company, and we value our reputation in the community. We do our best to provide our friends and neighbors with the kind of service that will make us the preferred HVAC company in the region.
Our HVAC Solutions
We started operating in 1977, and we've worked hard to keep abreast of developments in the HVAC industry so that our customers get the best in heating and air conditioning solutions. We have the experience and passion to offer the best in repair, installation, and maintenance for your residential and light commercial systems. Contact Metz Air for complete HVAC services:
Heating & Furnace Repair
Heating & Furnace Installation
Commercial HVAC
IAQ Inspections
Blown-in Insulation
Energy Efficiency Inspections
As a Trane Comfort Specialist with NATE-certified employees, we focus on offering clean, fast and reliable service. We install, maintain, and repair all brands and models of HVAC equipment.
HVAC Repair in the Chino, CA, Area
We understand how inconvenient it can be when your air conditioner breaks down on one of the hottest days of summer. When you call us for repairs, we answer promptly. Our comfort advisors have the tools and expertise to get your air conditioner running again.
When your heating system stops providing the warmth and comfort you expect, you need a company that can restore performance quickly. It won't take long for the indoor temperature to drop significantly, and this can be especially concerning if elderly persons or infants are present. Metz Air has the team and equipment to diagnose and repair the problem quickly.
Expert HVAC Installation
We specialize in installing air conditioners that will meet your cooling needs. Our comfort advisors perform load calculations to ensure your cooling system is the right size for your home or business. We will also ensure you have all the information you need to choose the right cooling unit.
We stock Trane equipment, but we install all kinds of heating and cooling systems. From heat pumps to furnaces, we're trained to handle any AC or heating installation. Let Metz Air help you with your HVAC installation today.
Residential and Commercial HVAC Maintenance
You want your HVAC system to work adequately for the long haul. Sign up for a preventive HVAC maintenance plan to protect your system and ensure a longer lifespan. We offer comprehensive inspections and cleaning services. During maintenance visits, we'll resolve any problems that could affect performance and energy efficiency.
Call us in spring for your AC and fall for your heating system. Our comfort advisors have the experience and training to provide reliable commercial and residential HVAC maintenance. During a system inspection, our team will give an honest assessment and let you know when it's time for repairs or if you need to replace your system. Platinum members get a lifetime warry on parts.
Ductless Air Conditioning
Ductless AC systems give you the option to cool a specific room or area in your house. We'll install your new unit wherever needed so that you can have more control over heating and air conditioning. Mini-split installation isn't labor intensive because of the lack of ductwork. Upgrading to a ductless system will provide you with the comfort and efficiency you're craving.
Comprehensive Indoor Air Quality Services
Do your allergies seem to be worse at home or in certain rooms? Poor indoor air quality could be the culprit. At Metz Air, we carry a variety of air cleaning products including air scrubbers, electronic air cleaners, 5" media filters and UV lights. If you're not sure what is causing the problem or how to identify the source, we also offer indoor air quality inspections.
Duct Cleaning Services
The condition of your ductwork can also affect your indoor air quality. If you notice a lot of dust or a musty odor, dirty ducts could be the reason. The ductwork is a haven for contaminants like fungi, pollen, dust mites, and insect waste. As air passes through the ducts, it carries these particles to various rooms via the vents. Poor indoor air quality can cause frequent and long-term health problems. We have the tools to inspect and thoroughly clean your ductwork. Call us for service and keep your employees and loved ones healthy.
Blown-In Insulation Contractor
Get the most out of your HVAC system and reduce energy waste with our blown-in insulation services. Blown-insulation effectively prevents heat transfer, especially in areas that are hard to reach. Keep the heat where it belongs in winter and prevent heat from entering your living spaces during the cooling season. Contact us to learn more about this efficient and affordable solution for optimizing comfort and keeping your energy bills in check.
Why Metz Air?
Our reputation is important to us, so we work hard to make sure that we are the go-to contractor for HVAC products and services in our area. For efficient service, we maintain fully-stocked trucks so that we can address your HVAC problem in a timely manner. We take pride in our work and ensure every member of our team shares that philosophy. We offer a 100% satisfaction guarantee on all our work, and you can count on us for fair pricing.
As your HVAC contractor, we focus on providing all the HVAC services and products you need to guarantee indoor comfort. We're happy to serve the residents of Chino, Chino Hills, Corona, Rancho Cucamonga, Yorba Linda, and surrounding areas in California. If you want to learn more about how our heating and cooling services will benefit your home or business, contact us today.
HVAC Repair and Installation Specials
View Specials
Our Latest News
Why Does My Chino, CA, Ductless System Make So Much Noise?
September 16, 2023
Read More
Why Choose Us
100% Satisfaction Guaranteed
Third-Generation Family-Owned and Operated for 46 Years
100% Financing On All Systems
Highly Trained NATE Certified Technicians
Lifetime Workmanship Guaranteed On All Installs