Indoor Air Quality, Ductwork & Duct Cleaning
in Chino, Riverside and Surrounding Areas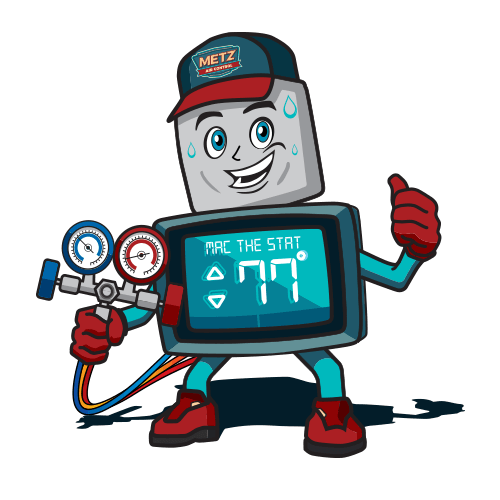 Experience the Metz Difference
Today's tightly sealed structures have greatly improved the energy efficiency of HVAC systems. By preventing air from escaping through poorly insulated walls or drafty windows, you reduce energy waste during heating and cooling. There are some unintended consequences, however. Well-sealed homes and businesses can also trap contaminants indoors. In fact, the air in many homes is more polluted than the air outside. At Metz Air Control, our indoor air quality solutions let everyone breathe cleaner, healthier air.
Indoor Air Pollution and Your Health
From dust and animal dander to chemicals emitted from household products, a host of pollutants circulate through the average home. For people with allergies, asthma, or other respiratory conditions, indoor air pollution exacerbates symptoms. Long-term exposure is harmful to otherwise healthy people too. Living in a polluted environment puts you at a greater risk of developing serious illnesses, including heart disease and cancer. Even when symptoms aren't noticeable, it makes sense to take steps to improve the air quality in your home or business.
Indoor Air Quality Products
Metz Air offers a wide range of products engineered to keep the air you breathe clean and healthy. Most are designed to work in tandem with your existing heating and cooling systems. These whole-house solutions include:
Electrostatic filters installed in the ductwork that create an electrical field to capture particles
UV lamps positioned near AC cooling coils to kill biological contaminants like bacteria and mildew
Powerful air purification systems that can remove pollutants up to 18,000 times smaller than the head of a pin
We also sell air scrubbers, electronic air cleaners, and 5" media filters. As a Trane Comfort Specialist, Metz Air is authorized to install top-performing air-cleaning products in Chino and the surrounding communities. In addition, our NATE-certified comfort advisors have the training and skills to repair and service all brands of air quality systems.
Ductwork and Air Duct Cleaning
The pollutants that circulate through your home or business can also accumulate in the ductwork of your forced-air HVAC system. A buildup of contaminants not only impacts your health but the efficiency of the system as well. Our professional air duct cleaning services help keep the air clean and moving freely. Our ductwork services also include air duct replacement, repair and installation. We offer everything you need to keep your ductwork in peak condition.
From air scrubbers and media filters to air duct replacement and cleaning, Metz Air is proud to offer effective and lasting solutions to indoor pollution. Call today to schedule an IAQ inspection. Our family-operated company works hard to ensure comfort and health in your Chino, Chino Hills, Rancho Cucamonga, Yorba Linda, and Corona, California, home or business. We are also proud to provide service to surrounding areas.
HVAC Repair and Installation Specials
View Specials
Our Latest News
6 Myths About Heat Pumps in Norco, CA
May 21, 2023
Read More
Why Choose Us
100% Satisfaction Guaranteed
Third-Generation Family-Owned and Operated for 45 Years
100% Financing On All Systems
Highly Trained NATE Certified Technicians
Lifetime Workmanship Guaranteed On All Installs