Smart Thermostat Controls Installation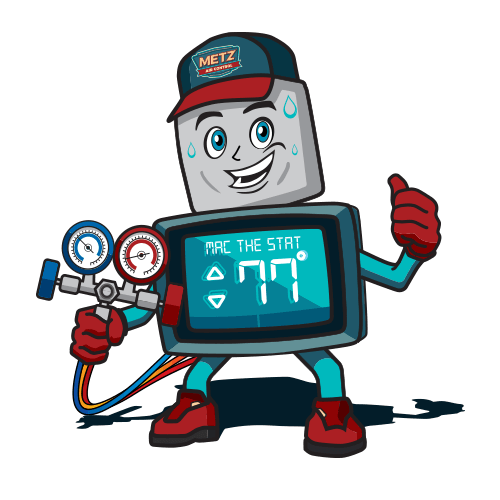 Experience the Metz Difference
Thanks to new technologies, HVAC manufacturers can take advantage of significant advancements to provide efficient and high-performance heating and cooling systems. The thermostats that control today's units have undergone a high-tech transformation as well.
At Metz Air Control, our modern thermostats include models you can manage remotely with your computer, smartphone or tablet. Today's digital designs make it easy to maximize your comfort and manage your energy bills every month of the year.
Explore Options for Thermostat Controls
Modern thermostats range from those you program youhttps://metzaircontrol.com/systemsrself to smart devices that learn to maintain your temperature preferences automatically. Those with Wi-Fi capability let you access them from anywhere you have an internet connection.
In addition to monitoring and adjusting settings remotely, you can track your energy usage online too. Some models will even alert you when it's time to change the air filter or schedule maintenance service. Our comfort advisors can help you select the thermostat that best suits your needs.
The Benefits of an Energy-Saving Thermostat
No one likes coming home to a sweltering hot environment during a SoCal summer. Leaving the AC running at full blast while you're away, however, can send your cooling costs through the roof. Similarly, during winter, why waste money heating your home if you're away for most of the day?
Thermostats that alter temperatures according to your schedule let you save money without sacrificing comfort. You can wake up to enveloping warmth in the winter and stay comfortably cool home all summer long. You'll enjoy the convenience that an energy-saving thermostat offers too. It's a great way to save money, energy and manage comfort year-round.
The Hub of a Smart Home
As a Trane Comfort Specialist, Metz Air is authorized to install thermostat controls that integrate with the Nexia home automation system. Equipped with the built-in Nexia Bridge, our thermostats offer you a simple and affordable way to automate your home. With Nexia, you can connect more than 200 compatible devices through the Nexia app. You can also control your automated lights, locks, and cameras through your voice using Amazon's Alexa digital assistant. It all begins with new thermostat installation from the experts at Metz Air.
Wherever you live in the greater Riverside-San Bernardino area, an energy-saving thermostat can improve your comfort from season to season. With more than 40 years of experience providing HVAC service to the region, Metz Air is your premier choice for thermostat installation. We'll ensure that your new thermostat saves you money and enhances your comfort for many years to come.
HVAC Repair and Installation Specials
View Specials
Our Latest News
3 Tips for Maintaining Commercial Ventilation in Riverside, CA
November 19, 2023
Read More
Why Choose Us
100% Satisfaction Guaranteed
Third-Generation Family-Owned and Operated for 46 Years
100% Financing On All Systems
Highly Trained NATE Certified Technicians
Lifetime Workmanship Guaranteed On All Installs