Ductless Mini-Split Repair & Installation
in Chino, Riverside and Surrounding Areas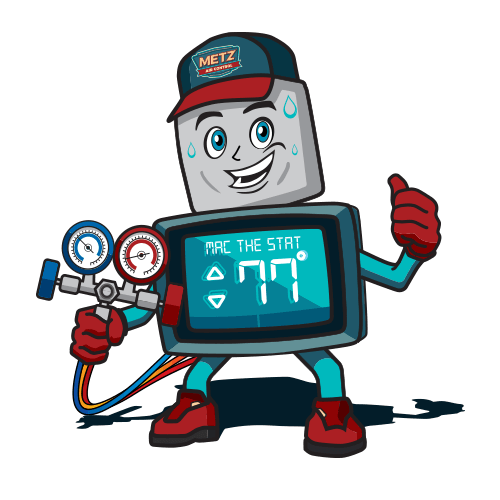 Experience the Metz Difference
A traditional air conditioner or heating system isn't the only option when it comes to fulfilling your comfort needs at home. There are other convenient and advanced options you should consider. At Metz Air Control, we recommend upgrading to ductless heating and cooling systems if you don't want to deal with the maintenance and air quality issues that come with ducted systems.
The Benefits of Having a Ductless Mini-Split System
If you're concerned about efficiency and how well your HVAC system operates, you should consider investing in a ductless mini-split system. With the traditional ducted setup, air travels through the ductwork and cools or heat various rooms via vents. For ductless air conditioning, an outdoor compressor connects to one or more units that deliver air directly where needed. Other benefits include:
Efficiency: You can save 30 percent on electricity costs by upgrading to a mini-split system. Central air conditioners often result in reduced efficiency because of leaky ductwork.
Better Indoor Air Quality: Ductless mini-splits systems mean lower levels of bacteria, dust, and other allergens in the home. These particles often collect in ductwork and get distributed as air passes through it. The multi-stage filtration feature of mini-split systems also helps to improve indoor air quality.
Easy Installation: Ductless mini-splits make add-ons easy. Imagine having to extend ductwork to a newly constructed room. You can install a ductless unit in your new space in no time at all. Mini-splits are also ideal for rooms that are hard to heat or cool.
Flexibility: Mini-split systems work well for homes with more than one level. Since you can install multiple units with individual thermostats for zoned comfort, each user can tailor settings based on their preferences. They are perfect for commercial and residential use.
You save energy by eliminating constant thermostat adjustments. You also reduce energy waste when you direct air conditioning where needed instead of heating or cooling unoccupied areas.
Ductless Mini-Split Installation
As your Trane Comfort Specialist, we stock energy-efficient Trane ductless systems and have the expertise and qualifications to install your new mini-split AC. We work quickly and efficiently, and take pride in maintaining a clean work area. You can feel even more confident in your installation with our 100 percent satisfaction guarantee. Platinum club members get a lifetime warranty on parts.
You have the option of installing your indoor unit high on an interior wall or from the ceiling. Our NATE-certified comfort advisors will advise you of all the steps involved so that you have full knowledge of the entire process. It is our policy to check that the system is operating efficiently before leaving the premises.
Ductless Air Conditioning Experts
When you need reliable ductless mini-split service in Chino, Chino Hills, Corona, Rancho Cucamonga, Yorba Linda, or surrounding areas in California, look no further than Metz Air. We take great pride in our work and aren't happy until our customers are completely satisfied.
If you want to learn more about how ductless systems offer you superior cooling solutions, contact us today. We provide top-notch service at fair prices, and we've worked hard to develop a reputation for reliability and efficiency.
HVAC Repair and Installation Specials
View Specials
Our Latest News
3 Tips for Maintaining Commercial Ventilation in Riverside, CA
November 19, 2023
Read More
Why Choose Us
100% Satisfaction Guaranteed
Third-Generation Family-Owned and Operated for 46 Years
100% Financing On All Systems
Highly Trained NATE Certified Technicians
Lifetime Workmanship Guaranteed On All Installs