HVAC Zoning Services
in Chino, Chino Hills, Corona, Riverside and Surrounding California Areas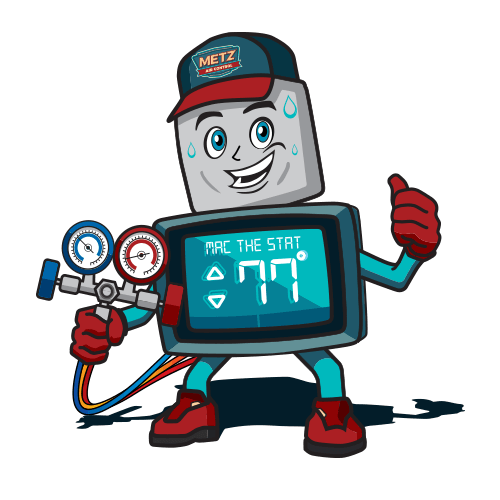 Experience the Metz Difference
If you live in a home with many family members, you know that every person has their own temperature preferences. One person might like their room warm while another cool. This can result in conflict among loved ones and thermostat wars that strain your HVAC system and increase your energy bills. With HVAC zoning, you can finally call a truce. Metz Air Control is here to help restore peace in your household once and for all.
HVAC Zoning Installations in Chino, CA, and the Surrounding Area
HVAC zoning is a simple concept. An HVAC zoning system with ducts includes a central control panel, motorized dampers and zone thermostats. Homeowners use the zone thermostats to control the temperature in each room or zone. Each zone's thermostat directs the motorized dampers to open or close based on your temperature preferences, either increasing, decreasing or stopping the amount of conditioned airflow to that space. Homeowners can also zone their house with multiple ductless HVAC systems.
Why Invest in an HVAC Zoning Installation for Your Chino, CA, Home
With the right setup, an HVAC zoning system can help you save up to 30 percent on your energy bill. That's because you'll stop heating or cooling empty rooms. You'll prevent feeling hot or cold spots in your home, and your loved ones will stop fighting over the thermostat settings. Everyone will feel comfortable no matter which room they're in. You'll also avoid straining your HVAC system, which helps reduce the risk of breakdowns.
Choose Metz Air Control to Zone Your Home in Chino, California
Metz Air Control is a family-owned and operated HVAC company that proudly serves homeowners in Chino, Chino Hills, Corona Hills and the surrounding areas in California. We're a Trane Comfort Specialist, and our NATE-certified comfort advisors maintain a clean appearance, work fast and provide reliable service. We take pride in our work and offer a 100-percent satisfaction guarantee for every HVAC zoning installation.
Want to transform your home with HVAC zoning? Call Metz Air Control today for a free estimate. We'll provide accurate and fair pricing for a new HVAC zoning installation or an upgrade on any current zoning system to better meet your home's temperature needs.
HVAC Repair and Installation Specials
View Specials
Our Latest News
3 Tips for Maintaining Commercial Ventilation in Riverside, CA
November 19, 2023
Read More
Why Choose Us
100% Satisfaction Guaranteed
Third-Generation Family-Owned and Operated for 46 Years
100% Financing On All Systems
Highly Trained NATE Certified Technicians
Lifetime Workmanship Guaranteed On All Installs