Heating Installation
in Chino, Riverside and Surrounding Areas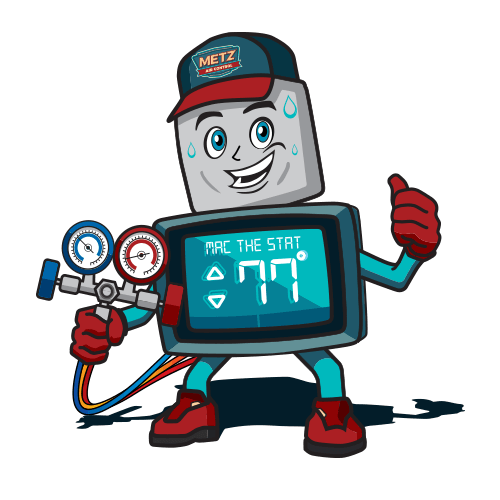 Experience the Metz Difference
You need your heater or furnace to provide the warmth you desire when the temperatures start plummeting in the Chino Hills, CA, area. If your heating system is no longer working because of wear and tear, then it's time for a replacement. Call Metz Air Control today for your upgrade, and we will provide an accurate assessment and help you choose a heating system that fits your needs.
Choose a Heating System That's Right for You
The size of your heating unit matters. Choosing a system that is too big or small, will compromise comfort, efficiency and utility costs. We'll ensure that your heat pump or furnace is the correct size by performing sizing calculations using the Air Conditioning Contractors of America's (ACCA) Manual J specifications. When you're ready for your replacement, our line of products includes:
Heat pumps
Gas and oil furnaces
Mini-split systems
Programmable thermostats
We will review your product options with you and ensure you are happy with your decision based on your needs and budget. You rely on us for fair and honest advice.
Heating Installation Services in the Chino Hills Area
The NATE-certified comfort advisors at Metz Air have a track record of making customers happy. Whether you need a furnace installation for a new home or you're replacing a system in your business, we come prepared to do quality work. You receive the following benefits when you partner with Metz Air:
Customer Satisfaction: At Metz Air, we make you our priority. We're honest and transparent in our approach and offer a 100% satisfaction guarantee, so you know you can rely on our recommendations. We also offer a lifetime warranty for platinum members.
Energy-Efficient Products: At Metz Air, we stock high-performance products from Trane—a leading manufacturer of HVAC systems. However, you can rely on our comfort advisors for expert installation of any brand or model.
A NATE-Certified Team: Our comfort advisors go through rigorous training to stay up to date with advancements in the HVAC industry. As a Trane Comfort Specialist, we take pride in our work and strive to provide clean, fast, and reliable solutions.
We understand that you don't want just anyone at your home. That's why we only employ the best and guarantee professional and courteous service at all times.
Furnace Maintenance Services
Seasonal maintenance is important if you want your heating system to last as long as possible and perform as expected without needing frequent repairs. We recommend that you schedule preventive maintenance in fall for your residential or commercial heating units. At Metz Air, we provide a thorough cleaning and inspection. Our safety inspections help you avoid problems that could pose a threat to occupants or result in damage to your system.
Contact Metz Air today to learn more about our furnace maintenance services or to schedule an appointment for furnace installation. We proudly serve the residents of Chino, Chino Hills, Corona, Rancho Cucamonga, Yorba Linda, and surrounding areas in California.
HVAC Repair and Installation Specials
View Specials
Our Latest News
Why Does My Chino, CA, Ductless System Make So Much Noise?
September 16, 2023
Read More
Why Choose Us
100% Satisfaction Guaranteed
Third-Generation Family-Owned and Operated for 46 Years
100% Financing On All Systems
Highly Trained NATE Certified Technicians
Lifetime Workmanship Guaranteed On All Installs