AC Maintenance Services
in Chino, Riverside and Surrounding Areas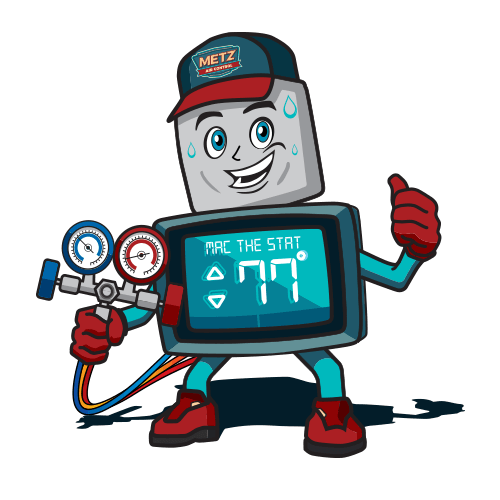 Experience the Metz Difference
Being consistent with HVAC maintenance is vital to the performance and durability of your equipment. Extreme cold and hot weather can damage your units if you neglect regular inspections. Give your HVAC equipment some TLC by investing in preventive HVAC maintenance.
You Benefit When You Schedule Annual Maintenance
Scheduling routine maintenance will protect your HVAC equipment. When you get an annual tune-up from Metz Air Control, we ensure that your unit will perform at optimal levels. Additional benefits include:
Preventing costly repairs and high utility bills
Improving indoor air quality
Priority service
Increased efficiency
Think of annual HVAC maintenance in the same way you view motor vehicle care. You arrange for regular oil changes and tune-ups to improve performance, reverse the impact of wear and tear, and help your car last longer. The same principle works for your heating and cooling system.
Mac's Gold Membership Protection Plan - Free for 1 year!
Annual Price: $177 for one unit | Additional units: $60 per year.
Service within 24 hrs.
10% discount on repairs
No overtime charge
$77 Diagnostic Charge (excludes freon)
2 Tune-Ups per Year (Spring & Fall). Appointments must be in this time frame. No carryover
What to Expect During HVAC Maintenance
Our comfort advisors will perform a multi-point HVAC inspection on your units during the cooling and heating seasons. For your cooling system they perform a comprehensive service with tasks that include:
Checking thermostat to making sure it's functioning properly
Cleaning the filter
Checking the refrigerant charge
Inspecting and tightening electrical connections
Ensuring safety devices are operating properly
Inspecting the coils
We promise fair, clean, fast, and reliable service and take pride in our work. As your AC contractor, we promise service that will help you to get the most out of your air conditioner or heat pump—100% satisfaction guarantee. Similarly, we provide thorough heating system tune-ups and safety inspections that include:
Testing the ignition system
Inspecting and cleaning heat exchangers
Inspecting and cleaning the furnace burner
Measuring the gas pressure
Checking for potential gas leaks
Testing the exhaust system
Lubricating moving parts
The advantages of routine maintenance far outweigh the costs. At Metz Air, we take our role as your AC contractor seriously. From season to season, we'll help you safeguard indoor comfort for your family and/or employees and customers.
Your Local Air Conditioner Contractor
You won't have to worry about the Chino, California, summer when you schedule seasonal maintenance with Metz Air. Schedule service in spring for your cooling system, and in fall for your heating unit. Get even more benefits when you sign up for a maintenance agreement. Platinum club members get a lifetime warranty on parts installed by Metz Air Control.
We provide maintenance for any brand or model heating or cooling system. Contact us anytime to learn more about the benefits of annual HVAC maintenance. We're also proud to serve as the air conditioner contractor for businesses and residents of Chino, Chino Hills, Corona, Rancho Cucamonga, Yorba Linda, and surrounding areas in California.
HVAC Repair and Installation Specials
View Specials
Our Latest News
3 Tips for Maintaining Commercial Ventilation in Riverside, CA
November 19, 2023
Read More
Why Choose Us
100% Satisfaction Guaranteed
Third-Generation Family-Owned and Operated for 46 Years
100% Financing On All Systems
Highly Trained NATE Certified Technicians
Lifetime Workmanship Guaranteed On All Installs